NEAGS Swap Meet
An annual meeting with a featured speaker & a workshop the evening before–a low fee for each. Other events (free) are offered prior to the event
150th Anniversary of the Civil War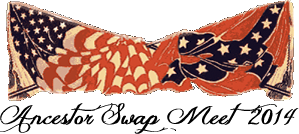 Whether our ancestors word Blue or Gray, their DNA runs deep within us. Please join the NEAGS as we remember our ancestors and the lives they lived during this terrible time in the history of our nation.
Saturday, March 22nd, 9am – 3pm at the Senior Center, 623 Broad St., Gadsden, AL.
Guest speaker, Mark Lowe.
Friday, March 21st, 6pm – 9pm at the Pitman Theater, Gadsden, AL, a "Memorial Dinner Theater".
Registration Form & Flyer (updated Jan 22nd, 3:05pm CST) under Nav Menu above.
Due to bad weather, extending Dinner Reservation Deadline to March 15th.
CUT OFF DATE FOR DINNER THEATER IS MARCH 8TH!
NO LATE ADMITTANCE AT THE DOOR
 NOTE for Friday evening: The seating for the Dinner Theater on Friday evening is limited. Get your registration in soon to ensure your seat.
NOTE for Saturday morning: The Gadsden Public Library is once again providing coffee, orange juice, and donuts.
.